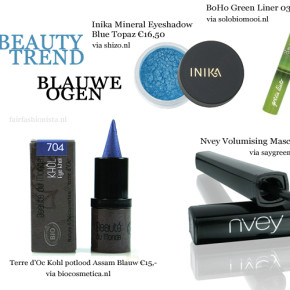 Lavera Trend Sensitive oogpotlood Blue //Inika Mineral Eyeshadow Blue Topaz // BoHo Green Liner 03 Blue // Terre d'Oc Kohl potlood Assam Blauw // Nvey Volumising Mascara De beauty trend van dit moment? Blauwe oog make-up! Of het nu mascara, eyeliner of oogschaduw is. Nog niet klaar voor zo'n gewaagd statement? Kies dan voor een klein detail met een dun streepje boven...
 Een van de trends op dit moment: kant. Of het nu sexy zwart is, schattig wit of in vrolijke kleuren, kant draag je deze lente op vele manieren.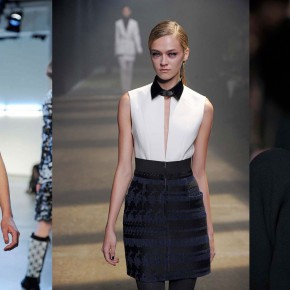 Bij vele grote merknamen en winkels gespot: de kraag. En ook de duurzaame modemerken doen mee.